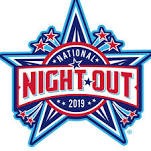 National Night Out
August 6, 2019 @ 6:00 pm – 9:00 pm
Locations:
49th and Baltimore
52nd and Highland
About National Night Out
National Night Out (NNO) is a unique crime/drug prevention event sponsored by the National Association of Town Watch (NATW). On the first Tuesday or August, thousands of neighborhoods across the country will be participating in this event.
Purpose
National Night Out is designed to do the following:
 Heighten crime/drug prevention awareness.
 Send a message a message to criminals letting them know that neighborhoods are organized and fighting back.
 Strengthen neighborhood spirit and police-community partnership.
National Night Out is about individual neighborhoods coming together. So turn your porch lights on, lock your doors and join your neighbors for a potluck, camaraderie, and if the spirit moves you, discussion of local safety issues.
For more information, contact Ruston City Hall at townclerk@rustonwa.org or 253-759-3544.