City Electric Engineering Services
When the City is asked to design the electrical infrastructure to serve a new development or to upgrade service by under grounding power, the City will engineer and design the system between the closest existing line and the new secondary connection points. The costs for such design coordination and inspection is born by the developer.
As an electric utility, the City of Ruston's policy states that the electrical engineering as it pertains to the medium and low voltage distribution system will be completed by the City at the customers cost. Therefore,  a deposit amount will be set and collected prior to commencing design of the new electric system.
This deposit is for coordination, engineering and construction management only and do not include permitting fees or other related work that is your responsibility to provide. If this deposit amount is insufficient you will need to make subsequent deposits to cover any overtures.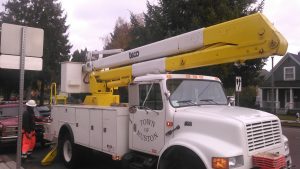 Please be advised the City of Ruston has a complete reimbursement engineering and construction policy for the customer portion for utility electrical improvements. Should the actual cost vary from the engineering estimate above, you will either receive a refund of the difference or be billed for the difference depending on whether the variance is over or under the estimated amount.